If you're planning a trip to Edinburgh, sure you'll enjoy the scenery, architecture, and overall awesomeness of the city, but why not make the trip a little more interesting? Go ahead and visit the castles and shops like all the other tourists, but take a walk off the beaten path for a more unusual look at Edinburgh. There are some hidden, and not-so-hidden, gems you should put on your list of things to do.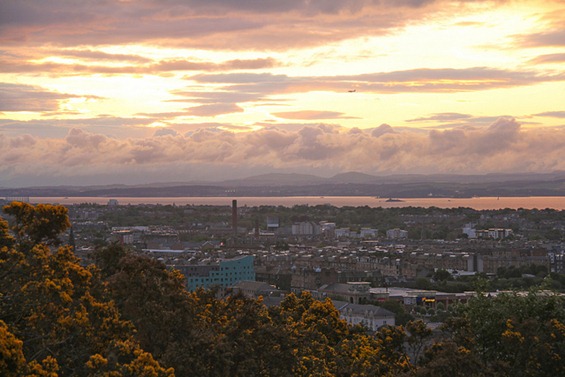 Flickr: Jon Mountjoy
Edinburgh Underground
There are several spooky attractions in Edinburgh. The Edinburgh underground tour is not for the faint of heart but is also one of the city's most popular attractions in the Old Town. Here you can be catered to in Marlin's Wynd for lunch, dinner, and large parties within a beautiful Georgian room that opens into the vaults below. Or you can visit the Underground Vaults for a more macabre adventure. The vaults are believed to be haunted, with visitors reporting such occurrences as a small boy grasping their hands and even a dog rubbing against their legs. Witness a re-enactment trial of Mary, Queen of Scots, and view medieval torture devices as actors play their parts a little too well.
Mary King's Close
Located below Edinburgh's Royal Mile, Mary King's Close is a fascinating tour of underground closes that once were narrow streets and tenements as much as seven stories high. Richly costumed actors will guide you through life as it was lived in the 16th and 17th centuries. This place is also reported to be haunted, so don't wander too far off on your own. It is believed that victims of the plague were quarantined and eventually died here.
Fourth Rail Bridge
Construction on this bridge began in 1883 and was completed in 1890, making it the world's first major steel bridge. At least 57 people lost their lives while working on the bridge and it is still a spectacular sight today. Trains cross the bridge from 180-200 times a day which is how you should experience it. While the bridge is amazing to look at and photograph, the real thrill comes from crossing it by train and appreciating this engineering marvel up close and personal.
Arthur's Seat
Only about a mile from the Edinburgh Castle you'll find, right in the city center, Arthur's Seat, the major peak in a cluster of hills situated within Holyrood Park. It was formed from a now-extinct volcano and offers breathtaking views of the city. It is easy to climb for most people. At the top is a hill fort from the late Bronze age to the early Iron age, built from the surrounding earth. It's a great way to see the city from a different vantage point while enjoying some fresh air.
Scotsman Steps
This is the perfect time to check out the Scotsman Steps of Edinburgh after a major renovation to bring it out of its formerly run-down state. It now boasts beautiful new artwork and the steps have been refurbished. The steps were originally built in 1899 as part of the Scotsman building, and has since declined into a state of ruin with graffiti on the walls and many of the steps in disrepair. This public passageway from Edinburgh's New Town to Old Town is quite a sight to see in its new glory.
Edinburgh has many notable attractions that will keep you wanting to see more. Castles and cobblestone streets add to its Old World mystique while you seek out the more unusual parts of this grand city. Take the time to see what lies under this city, what really makes it tick.
This article was written by Ross who writes at netflights.com who sell flight deals from Edinburgh Airport.